Ever Been Sick
Away from Home?
Rather Stay Home
and See a Doctor?
Going to Miss Class and Need a
Doctor's Note?
Need Privacy with a
Medical Professional?
Don't sweat it! We have been in your shoes.Let Campus Rx take a load off and help simplify your medical needs.
We've been in the same position. We know how inconvenient and costly it can be if you happen to get sick the day before a big exam. You have to deal with crowded clinics full of sick people, long wait times and most often, very expensive ER bills.
Wouldn't it be nice to have access to board-certified physicians 24 hours a day, 365 days a year? How about the ability to use your smartphone or webcam to video chat with a doctor without ever leaving your dorm room? Uneasy about sharing very sensitive information (such as mental health issues, sexually transmitted diseases, grief counseling) at campus-based student health clinics?
Then, look no further and welcome to Campus Rx.
Campus Rx has a Plan for Students Like You! Campus Rx works with Telehealth Professionals to ensure the best doctor experience possible for you.
Register with Campus Rx
Simply register with Campus Rx then check your email for further instructions. We will get you on your way to feeling better quickly.
Download Our App
Download the Telehealth App onto your device. You will use this to communicate with the medical professional.
It's Totally Affordable
We understand that being a student (or having a student in college) also means adhering to a tight budget and sometimes the inability to pay expensive health insurance premiums. While Campus Rx are not offering health insurance, access to this amazing service is both affordable and convenient.
It's Transferable
Benefits follow you even if you transfer schools or decide to sit out a semester.
BENEFITS ALL IN ONE PLACE These 4 services provide access to care & support that saves you money.
TELEHEALTH

DOCTORS ONLINE

DENTAL

PRESCRIPTIONS
Teladoc
Feel better now! 24/7 access to a doctor is only a call or click away—anytime, anywhere with no per visit fee. With Teladoc, you can talk to a doctor by phone or online video to get a diagnosis, treatment options and prescription if medically necessary. Save time and money by avoiding crowded waiting rooms in the doctor's office, urgent care clinic or ER. Just use your phone, computer, smartphone or tablet to get a quick diagnosis by a U.S. licensed physician.
On-demand healthcare—wherever, whenever
Treatment for common medical issues such as colds, flu, poison ivy, respiratory infections, bronchitis, pink eye, sinus problems, allergies, urinary tract infections and ear infections
10 minute average doctor response time

Visits for all ages—from children to seniors
U.S. board-certified doctors with an average 20 years practice experience
Upon request, Teladoc can share visit information with your doctor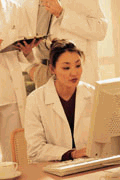 Doctors Online powered by eDocAmerica
The fast, easy way to get health information from an online resource you can trust. You have 24/7 access to doctors, pharmacists, psychologists, dentists, dieticians and more by email or smartphone app. You'll get treatment options and advice you understand. With Doctors Online, the doctor's always in!
Responses within a few hours
Articles, videos and Health Encyclopedia
Weekly Health Tip emails from doctors
Healthy Lifestyle Assessments to monitor your health
Secure Personal Health Record
Unlimited, confidential services include your immediate family

Dental powered by Aetna Dental Access®
To locate a provider, click here.
Smile brighter with big savings on dental services at over 195,000* available dental practice locations nationwide. Just present your card with the Aetna Dental Access® logo and pay the discounted price at the time of service. Use your card over and over again to keep your teeth sparkling clean!
In most instances, save 15% to 50% per visit**
Save on dental services such as cleanings, X-rays, crowns, root canals and fillings
Need specialty dental care? Save on orthodontics and periodontics, too!
*As of May 2016. **Actual costs and savings vary by provider, service and geographical area.

Pharmacy
To locate a provider, click here.
Don't pay full price! Save 10% to 85% on most prescriptions at over 60,000 pharmacies. Just present your card to save an average of 46% at locations nationwide.
Compare your prescription prices and see for yourself at MyRxPrice.com
Participating pharmacies include CVS, Walgreens, Target and many other independent, national and regional chains
Even if you have insurance, present both cards at the pharmacy to receive the lowest price
Immediate family included

It's Super Cost-Effective We understand that being a student also means a tight budget. We have the lowest prices out there for this amazing service.
YEARLY
$125
/ year
REGISTER
Pay for all 12 months
Includes winter and summer breaks
$6.95 one-time registration fee applies

SEMESTER
$75
/ semester
REGISTER
Pay on semi-annual basis
Perfect for short term
$6.95 one-time registration fee applies

MONTHLY
$15
/ month
REGISTER
Pay on monthly basis
Perfect for trying out CampusRX
$6.95 one-time registration fee applies

You can get started right now!
Simply follow these three steps to be on your way to getting the medical services you need.
Click Register Now
Just click the Register Now button anywhere on our site.
Download App
Download the Telehealth App then check your email for instructions.
Check Your Email
Follow the instructions in your email and you will be ready to go.
Don't waste any more time waiting for a doctor!
After your experience using Campus Rx, you will be feeling better, less-stressed with extra money in your pocket. All with no lengthy doctor's appointments, no driving and no crowded waiting rooms full of sick people.
As a member, you will even get discounts on other health related services (imaging, pharmacy and mental health services) which is included in your membership fee.
What are you waiting for?